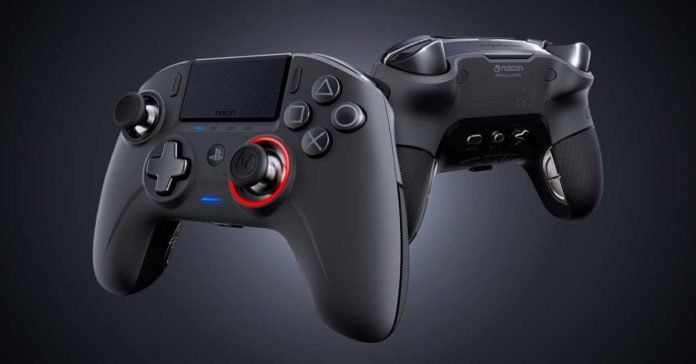 In this unboxing we tell you all the news of the  Nacon Revolution Unlimted Pro Controller for PS4 and PC . It is the third Pro controller for PS4 from the manufacturer, in which they correct, improve and polish some of the points that received more criticism in the two previous models. A controller, yes, thought first of all for those who play and compete at the highest level, since many of its features are designed for that profile (configuration of dead zones, behavior of sticks … everything is configurable). 
As in the previous versions, this gamepad is built in high quality materials, it includes four extra buttons to assign any function and, in addition, thanks to the included weights, it allows us to vary the sensations it transmits, between a heavier and more remote control. light. In any case it is a very ergonomic control, with a very nice non-slip surface.
But, without a doubt, the star feature is that, for the first time, on a Pro controller from Nacon  we can play wirelessly, thanks to the included USB receiver. The tricks of this Revolution Unlimited Pro Controller do not end there: it includes a rigid carrying case, which includes the USB-C charging cable, the aforementioned receiver and a box full of parts and surprises. Perhaps the most striking is that we can change the mushroom of the sticks, between concave and convex, as well as the thickness of the stick lever between three different sizes (which affects the travel of the stick). 
At the back are all the extra buttons and switches, either to control the volume of the sound that comes out of the headphones (includes 3.5 mm jack), mute the microphone or the profile, mode or system selectors. As a complement, the Revolution Unlimited controller  has an app for PC and MAC that allows us to modify each and every one of the aspects of the stick, from the use of each button to the behavior of the triggers, the vibration …
Another area in which it has improved compared to its predecessors is in the crosspiece, now in one piece, and more in the line of Ninendo crossarms. For all this, we are facing the best PS4 Pro controller, at least in terms of features and performance, but these features have a price, and it is not exactly low: 169.99 euros.